Prev
Next
KM1500 Series
Wrecker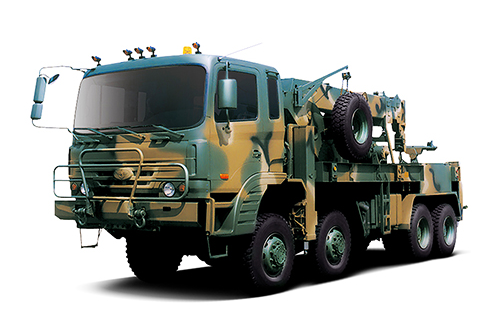 This vehicle was developed for the operation of modern rescue equipment that has enhanced rescue capabilities for resolving issues resulting from excess of operational limits of 5-ton rescue vehicle.

Used for tracking and hauling vehicles, removing/installing power packs from/on tanks and self-propelling artillery, and for the recovery and servicing of large and heavy materials.
FEATURES
450-HP diesel engine

Mounting commercial high-efficiency and high-horsepower engines onto vehicles for tracking capability, cold starting, and electromagnetic wave shielding adequate for military applications

automatic transmission

Improves the convenience of operating the vehicle, and prevents the engine from shutting down and the vehicle from slipping when it is started on a slope.

All wheel drive (AWD, 8x8)

The all wheel drive function is applied for improving tracking and hauling power, steering capability and stability, and off-road driving power.

Cabin

This cap-over cabin provides improved legibility compared with bonnet-type, and cap-tilting function increases serviceability. Applying specifications of commercial vehicles enhances convenience of driving vehicle

Double cabin

Double cabin that can accommodate 2 + 4 persons

Twin winch

Large winches with a hauling capability of 25 tons on the rear, the left, and the right of the cabin for hauling and mounting failed equipment onto a trailer.

Instruments and switches

Commercial vehicle instruments for improved legibility, and switches ergonomically arranged for enhanced operability
KM1500 Series Wrecker
Type
Technical Data
Overall length
mm
9,070
Overall width
mm
2,600
Overall height
mm
3,470
GVW
kg
36,000
Max. Speed
km/h
90
Max. Horsepower
ps@rpm
450@2,200
Max. Torque
kg·m@rpm
190@1,400
Gradeability
%
60
Fording Depth
mm
760
Ground Clearance
mm
340
Min. Turning Radius
m
12.0
Range
km
400
* All information is subject to change without notice according to any further improvements or operational environments.
PERFORMANCE
The hauling capability of the rescue boom
Model
3-level hydraulic sequential expansion
Pivoting angle
360˚
Hauling capability
3m
10 tons
Hauling capability
8m
3 tons

The hauling capability of the rescue winch
Item
Main winch
Front winch
Rear winch
Maximum hauling capability
3.5 tons
10 tons
20 tons
Cable length
95m
65m
85m
Controller type
Multi-plate mode