Prev
Next
KM450 Series
Cargo Truck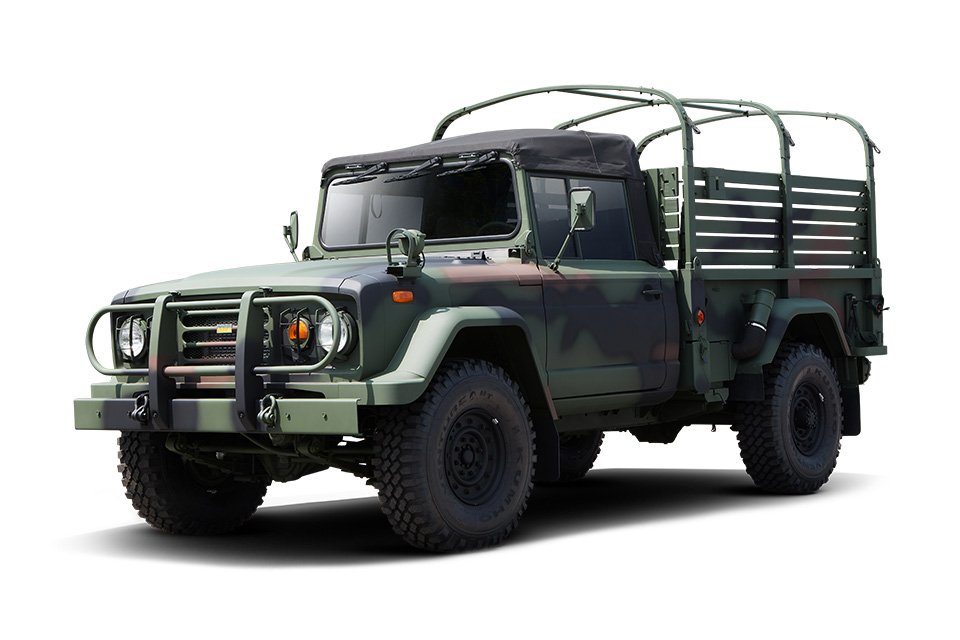 This 1 ¼ ton cargo truck was developed in Korea for the transportation of cargo and soldiers. It has been renovated with new functions that include a high horsepower engine and power train, and a new ergonomics design that allows for the convenience and safety of the operation of devices and instruments.
FEATURES
Engine/Power train and frame

Environmentally friendly 139 hp diesel engine, and optimized power train with 5 Speed manual transmission and 2 Speed transfer case
Configuring optimal frame of vehicle for mounting chassis system

Deck

Loading capacity: 6㎥ (2,358mm x 1,776mm)
Loading weight: 2,500kg (on pavement road)
Folding seats: Accommodates 12 armored soldiers

Utilization for diverse purposes

Detachable soft-top over cabin, and water-proof tarpaulin (support) over rear deck
Folding windshield for increasing versatility on the battlefield

Differential locking device (NSD)

This is mounted on the differential on the rear axles for ensuring driving on any surface conditions including damp ground and/or icy and sandy surfaces.

Hauling system

The hauling hook is installed on the rear of vehicle for connecting the trailer to the vehicle (hauling weight on a paved road: 2,000 kg)
Receptacle for supplying 24-V power

Winch (optional)

Remote control power-driven winch mounted on the front of vehicle
Maximum hauling power: 3,600 kg or more
KM450 Series Cargo Truck
Type
Technical Data
Overall length
mm
5,460
Overall width
mm
2,180
Overall height
mm
2,450
GVW
kg
5,650
Max. Speed
km/h
104
Max. Horsepower
kg·m@rpm
139@2,900
Max. Torque
kg·m@rpm
38@1,600
Gradeability
%
60
Fording Depth
mm
760
Ground Clearance
mm
254
Min. Turning Radius
m
8.5
Range
km
700
* All information is subject to change without notice according to any further improvements or operational environments.