Prev
Next
KLTV Series
Bulletproof Reconnaissance Vehicle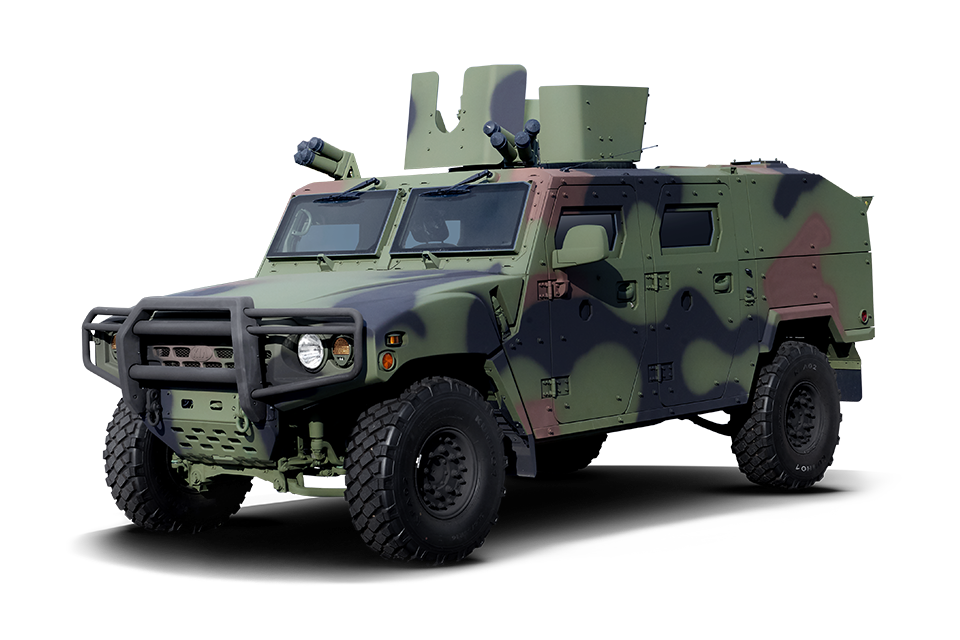 Kia developed its Light Tactical Vehicle with great mobility and high survivability that best suits a changed battle environment and efficient tactical operations based on its long-accumulated technology and infrastructure for commercial and military vehicles.
This KLTV182 is an agile reconnaissance vehicle with top-class survivability and field mobility for successful day and night missions.
FEATURES
225-HP diesel engine

A high-performance eco-friendly diesel engine which boasts strong horsepower and torque optimized for military purpose with its unyielding power, excellent fuel economy and super durability.

Winch(Opt.)

When a vehicle becomes immobile due to obstacles or malfunction, it can be towed or tow itself out.

8-Speed Automatic transmission

Enhanced fuel economy, shift quality and driving performance with multi - speeds transmission.

Air conditioner

Provides a pleasant environment to riders all the time and secures visibility of a driver by defrosting the windshield.

All wheel drive (AWD)

The all wheel drive function is applied for improving tracking and hauling power, steering capability and stability, and off-road driving power.

Rear-View Camera

Enhancing safety and parking convenience in reversing.

Independent suspension

Ensuring superb riding comfort and stable maneuverability as 4 wheels are independently operated during driving on rough terrain, and exerting strong driving and braking power by enhancing the traction with the road surface.

Bullet resistant body / Front heating glass

Practical diagonal structure which facilitates bullet resistant body production and enhances bullet proof performance is applied to the cabin.
Improves the survivability and convenience by defrosting the armored heating glass.

Hub reduction axle

Raising the ground clearance of the body by applying the hub reduction portal axle, and enhancing the off-road driving capability on unpaved roads/rough terrains with additional reduction of the gear ratio for the increase of torque.

Run flat tire

Run-Flat Tire system helps to keep driving after being hit by bullets on the tires and ensures the best performance that solves the inconvenience of installing or removing the conventional one-body typed run flats tires.

4 channel ABS

By judging the amount of slipping of wheels and controlling the brake pressure, maintaining the stability of the vehicle and shortening the braking distance.

Smoke Shell Launcher(Opt.)

2- launchers on the front side to shield the vehicle from enemies in danger.

Hatch & Turret

hatch to mount various weapons and a rotational turret.
Guaranteeing survivability from the enemies by applying the gunner protector.
KLTV Series Bulletproof Reconnaissance Vehicle
Type
Technical Data
Overall length
mm
4,900
Overall width
mm
2,195
Overall height
mm
2,320
Ground Clearance
mm
410
GVW
kg
5,700
Engine Power
ps@rpm
225@3,200
Engine Torque
kg·m@rpm
51@1,750
Max. Speed
km/h
130
Gradient
%
60
Min Turning Radius
m
7.8
Fording Depth
mm
760
Cruising Range
km
640
* All information is subject to change without notice according to any further improvements or operational environments.