Prev
Next
KM1500 Series
Cargo Truck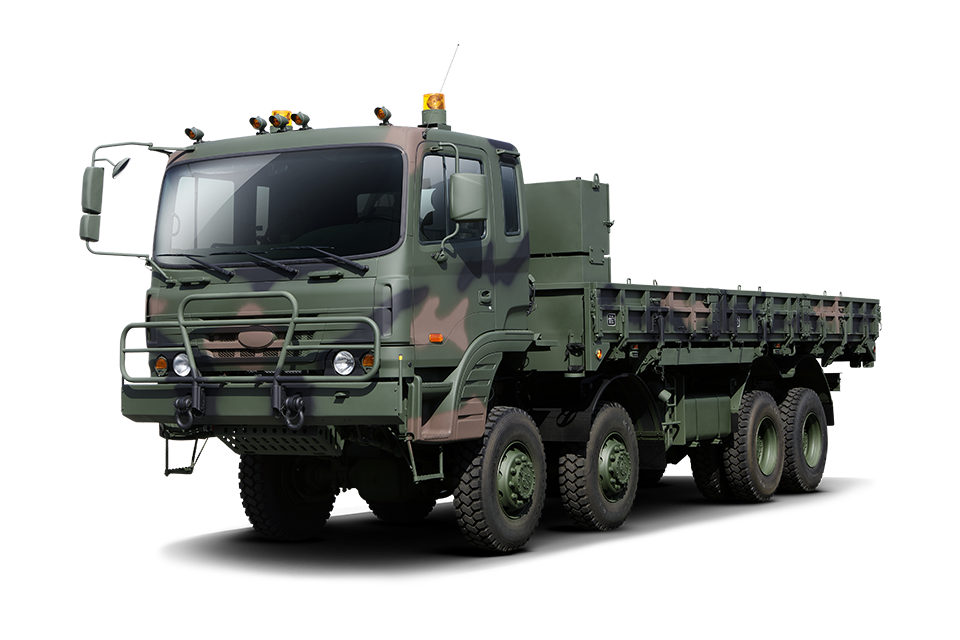 This vehicle was designed for mounted equipment to be easily detached from/attached to the vehicle.
It is supplied as a chassis vehicle or a cargo according to the mounted equipment.
FEATURES
Attachment guiding system

Ensures safety and decreases time for detachment/attachment between the vehicle and equipment

Power take off and speed signal relay

Composed of equipment relaying the vehicle's power and speed signal to the mounted equipment.

spair tire carrier

Improves operability of spare tires with a motorized hydraulic pressure carrier

450-HP diesel engine

Mounting commercial high-efficiency and high-horsepower engines onto vehicles for tracking capability, cold starting, and electromagnetic wave shielding adequate for military applications

automatic transmission

Improves the convenience of operating the vehicle, and prevents the engine from shutting down and the vehicle from slipping when it is started on a slope.

All wheel drive (AWD, 8x8)

The all wheel drive function is applied for improving tracking and hauling power, steering capability and stability, and off-road driving power.

Full air braking system and ABS

Applying a full-air braking system to the vehicle for reducing the force required for pressing the pedal, and ensuring precise braking force.
Applying ABS for keeping the braking force and steering capability intact and securing vehicle stability on an uneven surface.

Steering

Single- and double-axle steering for short rotation radius

Cabin

This cap-over cabin provides improved legibility compared with bonnet-type, and cap-tilting function increases serviceability. Applying specifications of commercial vehicles enhances convenience of driving vehicle

Instruments and switches

Commercial vehicle instruments for improved legibility, and switches ergonomically arranged for enhanced operability
KM1500 Series Cargo Truck
Type
Technical Data
Overall length
mm
11,000
Overall width
mm
3,000
Overall height
mm
3,600
GVW
kg
33,000
Max. Speed
km/h
90
Max. Horsepower
ps@rpm
450@2,200
Max. Torque
kg·m@rpm
190@1,400
Gradeability
%
60
Fording Depth
mm
760
Ground Clearance
mm
300
Min. Turning Radius
m
12.0
Range
km
700
* All information is subject to change without notice according to any further improvements or operational environments.