Prev
Next
5Ton Bulletproof
Vehicle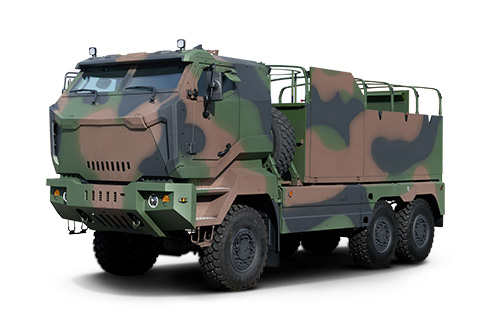 5Ton Bulletproof Vehicle is developed independently and provides rapid movement and reinforced life protection for infantry units. This vehicle can be utilized as a transporter or a massive supply convoy.
It was developed with concepts of toughness and grandiosity that can forestall the enemy force, practical design of a diagonal structure which improves bullet proof performance, and a cap over type cabin that enhances maintainability.
FEATURES
330 – HP Diesel Engine

Mounting high-efficiency and high-horsepower electronic control turbo intercooler engines onto vehicles witch optimally control fuel level and injection pressure.

Bullet resistant body

Practical diagonal structure which facilitates bullet resistant body production and enhances bullet proof performance is applied to the cabin and it can protect from ball ammunition and anti-personnel mine.

All wheel drive (AWD, 6x6)

The all wheel drive function is applied for improving tracking and hauling power, steering capability and stability, and off-road driving power.

Automatic transmission

Improves the convenience of operation the vehicle, and prevents the engine from shutting down and the vehicle from slipping when it is started on a slope.

Full air braking system and ABS

Applying a full-air braking system to the vehicle for reducing the force required for pressing the pedal, and ensuring precise braking force.
Applying ABS for keeping the braking force and steering capability intact and securing vehicle stabillity on an uneven surface.

Run flat tire

Tactical tire is installed which can travel 48 km within the limited time in case the tire is shot.

Air pressure control device of tire (optional)

Evacuates from poor subsoil by controlling air pressure of tire inside the cabin

Air conditioner

Provides a pleasant environment to riders all the time and secures visibility of a driver by defrosting the windshield.

Rear door of cargo box

Motor-hydraulic back door can be opened and shut by pressing a button and two persons canget in and out swiftly at the same time with steps.
5Ton Bulletproof Vehicle
Type
Technical Data
Overall length
mm
7,425
Overall width
mm
2,400
Overall height
mm
3,110
Max. GVW
kg
21,000
Max. Speed
km/h
105
Max. Horsepower
ps
330
Max. Torque
kg·m
125
Gradeability
%
60
Fording Depth
mm
1,000
Ground Clearance
mm
360
Min. Turning Radius
m
10.3
Range
km
1,000
* All information is subject to change without notice according to any further improvements or operational environments.